Some organizations don't allow external access to their email server (such as exchange) via IMAP or POP3.
Since VisionFlow needs to be able to login to the email server via IMAP/POP3 to import emails and convert them to issues/tickets a couple of more steps are needed to get this to work, but at least you don't have to install VisionFlow on your own server.
What you need to do is to redirect your emails from the internal mailbox to an external one, then let VisionFlow fetch emails from this mailbox instead. See a diagram below on how this can be easily solved, just by following the steps below:
Setup an external email account at a secure email provider (if you don't have/know any then we can provide such intermediary/transactional email box for you). The emails will not be stored on this account for more than a couple of minutes until VisionFlow imports them.
Configre your email server to relay all emails from your email server to the new email account. It is important that emails are redirected on the server side, so that the whole email will be unchanges/intact. In the MS Exchange you can do this by creating a server-side redirect rule. You can read more about this here:

http://www.slipstick.com/rules/serverbased.htm
http://www.cryer.co.uk/brian/msexchange/exch_allow_rule_email_forwarding.htm
http://office.microsoft.com/en-us/outlook-help/automatically-forward-messages-to-another-e-mail-account-HA001150201.aspx
Configure the new email account to allow access via IMAP/IMAPS/POP3/POP3S

Configure the email ticket system in VisionFlow to fetch emails from the new email account. Also remember to set your old email address in the "Email" field to make sure that ny emails sent out from VisionFlow will have your correct email address as the sender.
Please note that if you don't have another public server that you can use, then we can set up a email account for you on an external server for a small additional fee of 15 EUR per mailbox per month.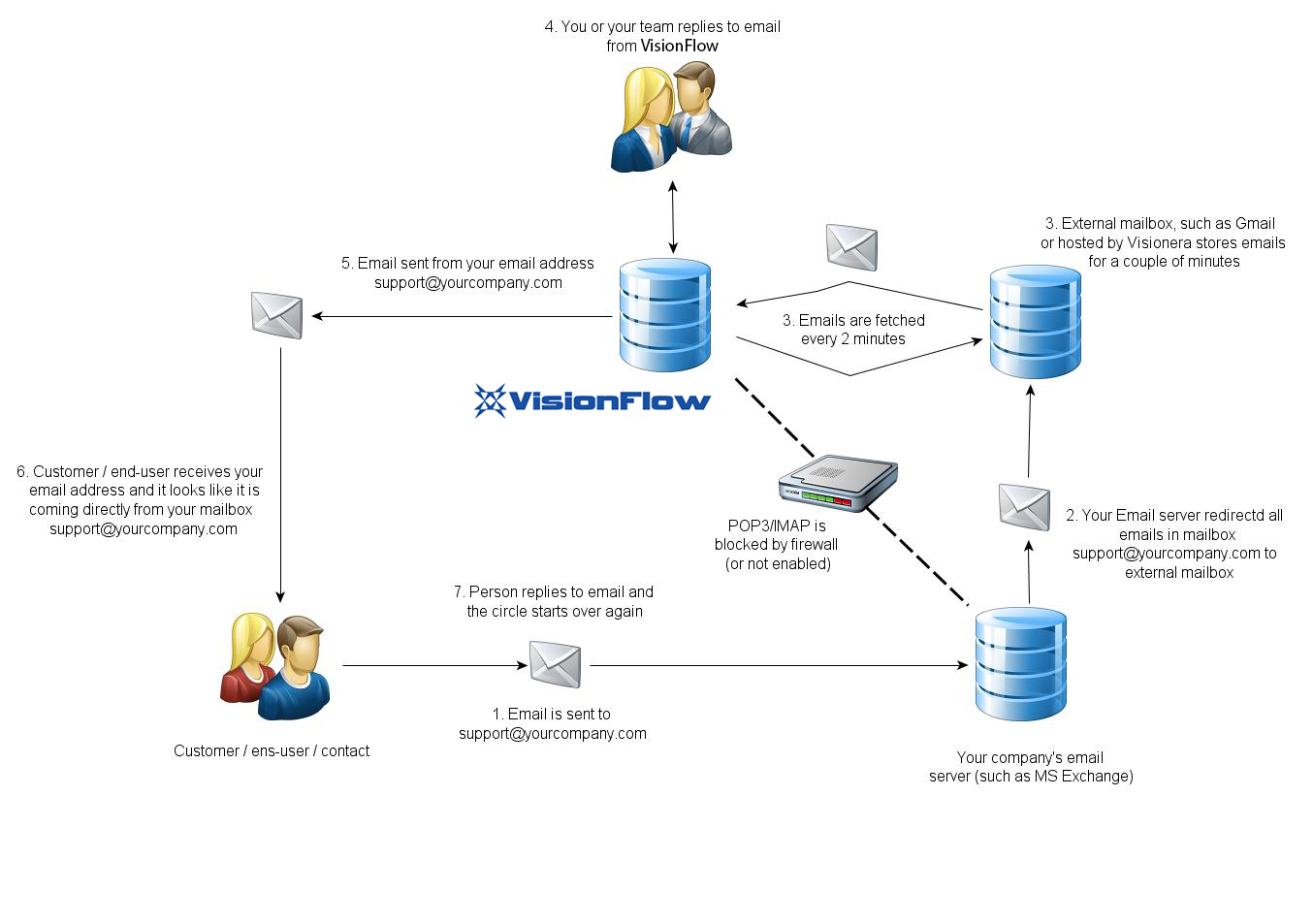 If you need more information or help related to this then please let us know and our support staff will assist you to solve this.