To inactivate a project the project status first has to be set to 'Inactive'. You do that in the 'Project page -> Edit project info'.

After that you can click 'Show inactive projects' in the 'Actions'-menu in the 'Projects-panel' to the left.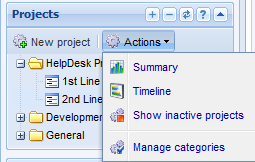 If you wish to delete a project you can then click on the 'X' to the right of the project name.