You can add users directly to a contract and organize them in different user groups for contact purposes.
The Users tab on a contract shows all users that has been attached to the contract.

You can add more users to the contract by selecting "Add users" and then selecting the users in the dialog. Use Ctrl - click and shift-click to select multiple users easily. Use the filters to find the right usergroups and companies to help you narrow down the users you want to select.
When you select user(s), you get a dialog where you first choose the user type of the user(s):
System user - this user can log in to the system, either normally or by using the support center (it depends on the actual user group the user has)
Contact - contacts are just contact data and can never log in to the system.
If you select "System user", another dropdown list shows, where you can choose the user group that the selected users will have on the contract. This does not affect permissions in the system.
The user groups on the contracts are used to tag users, to be able to tell which users are normal users, which are technical contacts, contract responsible etc.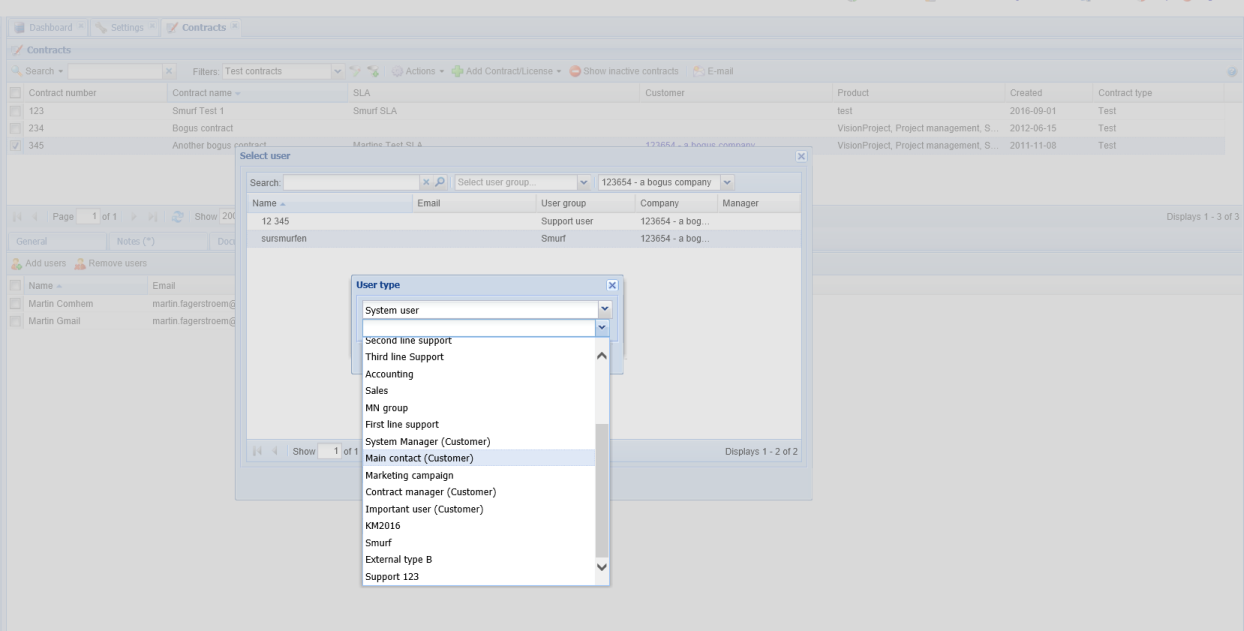 The different user groups are meant for contact purposes. If you select multiple contracts, and choose to email users, you can choose which user groups you want to email.
For example, if you want to contact all the technical contacts of your customers regarding a problem about a certain product, then you can filter out the contracts related to the product, and then select to mail all users with the user group "Technical contact" on those contracts.