Officially supported clustered High Availability solution
Note! This describes how to setup a clustered environment of VisionFlow.
Make sure this is needed in your organisation before you start implementing this. It will be considerably more complex to setup and will take more time to maintain this environment than the "normal" setup.
For larger organizations or organizations with high availability requirements we recommend that you install and configure a clustered setup of VisionFlow.
There are several ways to do this but below you can find a brief description of the officially supported solution by our team. This solution uses two tomcat servers and a separate NGinx proxy used for load balancing.
Please note that the example below does not include a clustered LBS setup of the proxy or chat server (if used), but a slightly more simple approach.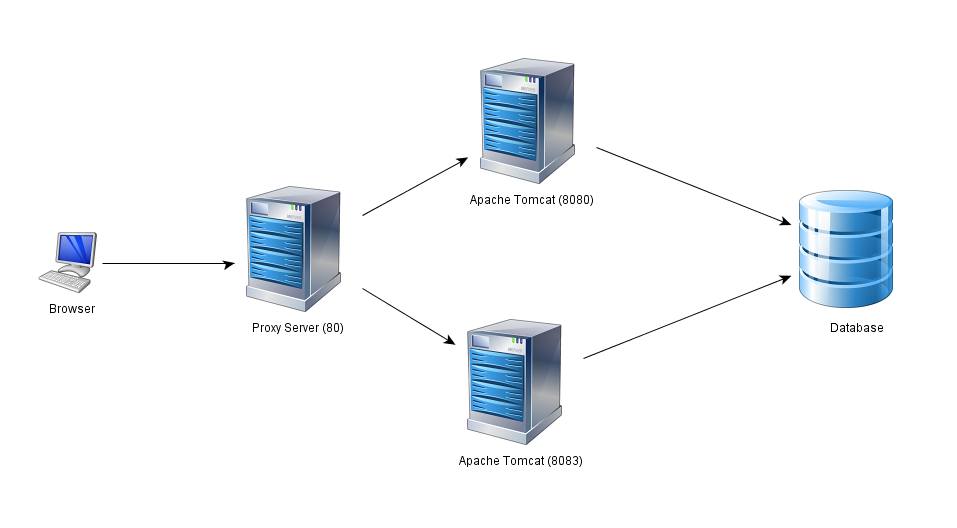 The setup consists of:
Two Apache Tomcat Servers

Session state and caches are replicated between the two servers. So the state of the servers is always in sync.
A proxy server

The proxy server acts as a loadbalancer distributing requests between the Tomcat Apache Servers. Also the Proxy Server detects if an Apache Tomcat Server is down and will fail over to the server that is operational. We recommend the use of NGINX that can be found here: www.nginx.org
More advanced High Availability solution
The solution below is not officially supported solution by our team but a sample of how a more large scale solution can be implemented, such as for really large organizations or where the service is mission critical. Even though this solution is not officially supported our of the box, our team can certainly assist to implement this for your organization on a consulting basis.
Also please note that in the schema below we recommend that the proxy servers are be located in a separate DMZ for increased security.