Use Categories to organise your projects.
You can easily organise your projects into categories. Only the categories that has projects that you are part of will be visible in the Projects panel on the left side.
The final result when using categories can look like this: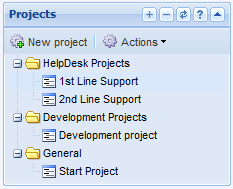 You can manage add/remove/change the categories, and the order that they should appear by selecting 'Actions->Manage categories'.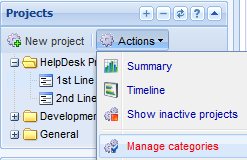 All categories will be listed with an order number, which is the order of which they should appear in the view.
You can here change the Category name, change the order in which it will appear in the project list and you can choose to delete a category (by pressing the 'X').
After doing a change, click Save to save your changes.

By selecting 'Add new project category' you can add a new category. If you only fill in the name of the category, VisionFlow will automatically set the order of the category to be highest, ie the category will appear last in the list.