This page allows you to edit the issue urgencies available in your account/company.
The list shows all issue urgencies available to you at a company/account level. VisionFlow has a number of levels of urgency available as a default (Low, Medum, High), and you can edit these or add new ones here.




On this page you can do several things with issue urgencies:
Create a new urgency by clicking on "Add new issue urgency", which will open a popup where you can enter values for your new urgency (see picture below).
Delete an urgency by clicking on the red "X" icon in the table, for the given urgency.
Edit by clicking on the edit icon for the given urgency, and enter values in the popup. Click Submit to save your changes.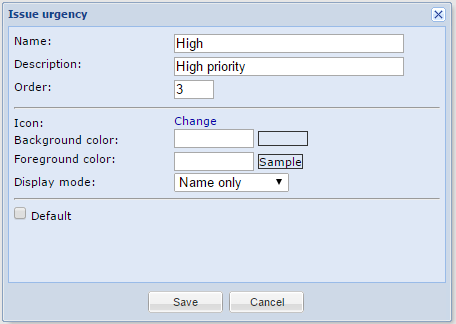 In the top section, you change Name, Description and Order (sorting order as integer value).
In the middle section you change how the urgency will appear when working with it.

Icon: clicking on "Change" will result in a popup icon chooser, where you can select a new icon.




Background, Foreground - these fields control the appearance of the urgency in the list. The values have to be entered in 6 digit hexadecimal RGB code, meaning each group is a value from 00 to FF. Some sample colors are (#000000=black, #FFFFFF=white, #FF00000=Red, #00FF00=green, #0000FF=blue, #FFFF00=yellow.. (You can read more about web colors here)
Display mode - whether the urgency is shown with name only, icon only, or name + icon.

Default - Check this to make this urgency the default value when creating new issues.