A Service Level Agreement (SLA) represents a commitment to complete certain issues in a given time or at a given service level.
If you cannot complete the issues in time/at the right level, the Targets of the SLA may breach, meaning you have failed to live up to your commitment or agreement with the customer.
An example is an agreement/contract between the help desk/service desk and its customers. In this case the associated SLA will breach if the service desk responds too late on issues or emails from customers.
An SLA in VisionFlow is built up by one or more SLA Targets. The SLA Targets defines what is promissed between the Help Desk/Service Desk and the customer.
Typical SLA Targets can look like this:
Response 8h (The support agent should respond to the client within 8 hours)
Resolution 24h (The issue should be completed within 24 hours)
The hours that the SLAs are calculated on are the hours specified in the work schedule that is defined for the SLA or the SLA Target. Note that a work schedule on the SLA take precedence over one on the SLA Target.
A common scenario is to have different SLAs for your customers, e.g. Gold, Silver, Bronze, with different Response and Resolve times, for example: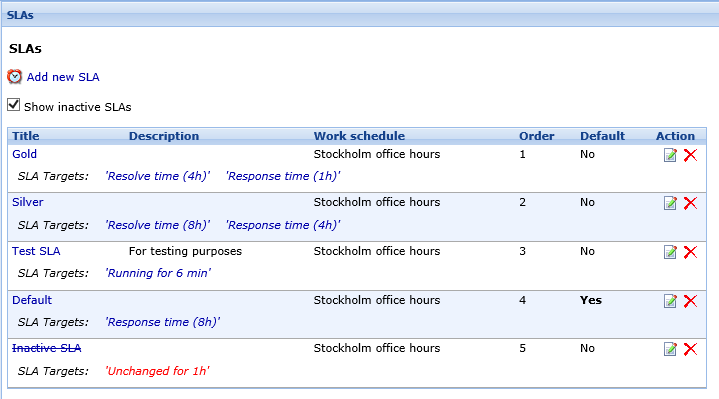 Tie SLA to a specific customer
To tie up the SLA to a specific client, you need to create a contract for that client. A contract is the connection between a user/company and the SLA. You can also use a contract to connect a Product to an SLA. The product on the issue will then help determine which contract and SLA should be used.
It is also possible to have a Contract that does not have to a product. You specify this by not selecting a product in the contract. The contract will now be a "generic contract", valid for all products, except for the contracts that that have specific products set..

Enable SLA for a project
Please note that it is the SLA Targets for a SLA that decide if the SLA will be used on a project. This is done by assigning SLA Targets to projects.
Only the projects that the SLA Target is activated for will be used for SLA management.
Even though a contract is created with a SLA, it will only be used on a project if one or more of its SLA Targets are used on the project.
Note that any criterias on SLA Target
To enable SLA's for a project you must include the issue following issue fields in your issue field configuration:
'SLA'
'Next breach'
'Contract' (Recommended, but not required)
Also make sure that you have
Selected your projects in the "Escalation-tab" for the SLA Targets (see below)
It is also recommended that you have one "default" SLA (checkbox on the SLA) for customers without Contracts
The SLA Target is activated for the project 5.0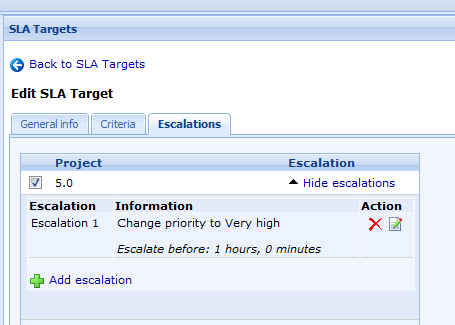 What decides which SLA that should be used?
Read more about how the system determines which SLA to set here:

What decides which SLA is used?
SLA and issues
When SLA is activated for a project, the issues in that project will have an issue field named: 'SLA' (per default). You can also have a field named: 'Next breach'. You can of course include these fields in your "Column view":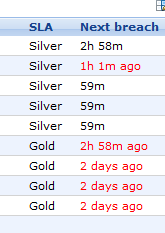 You can also export and filter on these fields, just like normal issue fields.
A section (tab) named SLAs is also available on the issue. This shows a list of SLA Targets that are active on the issue:
.