Stage is a Project field that represents the stage/phase of a project.
The project stage is visible in the project summary -
It is shown for each project that has a stage set.
You can also choose to have the bubble colors in the project chart be that of the stages for the shown projects.
This page allows you to define project stages that can then be set on projects ( in the project info page).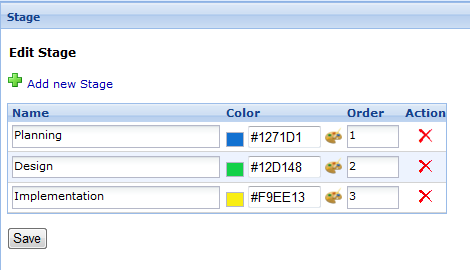 The image shows some sample stages.
Add new stage: This allows you to create a new project stage, and set its order number and color (by writing the color hexcode, or by opening the color dialog by clicking on the palette icon).
The color can be set using a special color dialog, shown below.