The Tags tab is available at the bottom left, next to the Navigation and Searches tabs.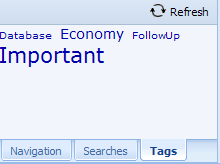 It contains a tag cloud list of issue tags on the account. The most common tags have the biggest text, while the most rare tags have the smallest text. Hover the mouse over a tag to see how many issues there are that have this tag.
You can click on a tag name to open up the tag summary page for that tag, in a new main page tab. The tag summary is a list of all issues with that tag, grouped by the different projects on the account.
The Refresh button forces a reload of the Tags tabpanel. Useful when you have added or removed tags, and you want the list to reflect this.