This is where you configure custom fields belonging to Companies
You can add new (custom) fields to Companies. These fields are added to the basic user information that is already present in VisionFlow. The custom fields will be visible on the company in the Companies page, and can be used for various information about companies that are of interest to you.
This page has two parts:
Sections
Sections are a way to group custom fields together, and will be shown in separate sections containing custom fields in the General sub-tab on the company.
When having a section in the list you can press "X" to delete or the icon to the right to edit the section.

Create a new section by clicking on the 'Add new section' link, enter section name and order in the dialog, and press submit.
Order sets in what order, after the basic user information, the section is shown (good use if you have more than one extra section).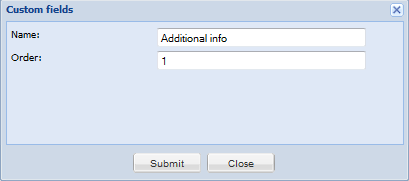 Custom Fields


The custom field table have these columns:
Section, name, type, mandatory, order and actions (se below for field descriptions). The actions contains the delete and edit functions. Delete removes the custom field, and edit opens the custom fields dialog for that custom field.
Create a new custom field by clicking on 'Add new custom field', which opens the Custom fields dialog. Configure values and press submit.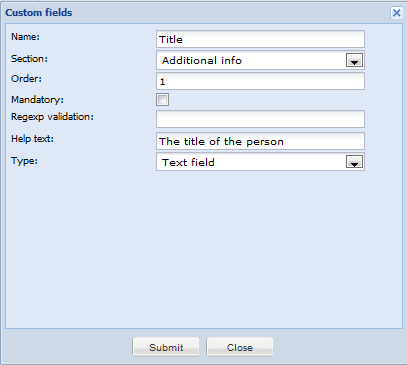 The dialog have these fields:
Name - The name of the company custom field
Section - Which section the custom field will be grouped under. Select from all available sections created above.
Order - The display order of the field, low integers is placed first.
Mandatory - Check this to make the company custom field required to fill in.
Regexp validation - Enter a regular expression formula, which is used for validating text data. Data not matching will be marked as invalid.
Help text - Enter information text to help users enter values correctly. Example: 'The format is 1234-1234-1234'

Type - Select the data type for the custom field. Choose between all the common custom field formats. See issue custom fields for more details.
Example of company information using above example section and custom field: