An issue alert is similar to an issue rule, but performs an action on the issue at a point in time related to a date value
When you want something to happen on an issue at a defined moment in time, you can use issue alerts to make sure it happens automatically.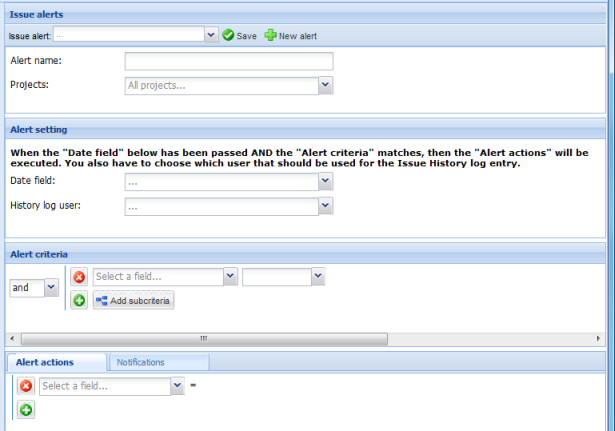 Issue alert - Choose preexisting issue alert here
Save - saves the current issue alert.
New alert - opens a new empty issue alert that can be edited and saved.
Alert name - this is self explanatory
Projects - This is a checkbox dropdown list, where you can select multiple projects. No projects selected is the same as "All projects"
Date field - This is the date field that will trigger the issue alert when its date and time is passed. These fields can be used for an issue alert:

Completed - When issue is completed
Created - When issue is created
Due date - supposed end date
Modified - When issue has been modified

History log user - Which user should be shown in the issue history log for the automatic changes associated with the issue alert.
Alert Criteria: Here you select a field or fields that should be used as a trigger criterion in addition to the passed time/date. This section is similar to how it looks in Search. The available fields should be all issue fields in the issue fields configuration
Alert actions : Select what should happen when the alert is triggered. You can change almost all standard issue fields in response to an issue alert.
Notifications : Select which users and/or user groups that should receive a notification when the issue alert is triggered.