There are several ways to do organize your service desk (help desk) in VisionFlow. It all depends on your needs and how you want to work.
One workspace (project) for incidents and service requests
For a normal Service Desk (Help Desk) and customer support purposes, it is quite common that you create one workspace in VisionFlow called "Support" or "Service Desk" inside VisionFlow. You and your customers will use this as a SPOC (Single point of contact)
For this "Support workspace" you activate the support center (self service portal) giving your customers and end-users a single point of contact. All tickets/issues (incidents, service request or different questions) reported by customers will be handled in the "Support workspace" and this is also where you communicate with all your customers from. They may report issues via many different channels email, phone, live web chat, submitted via the support center or a simple form on a web page (also visible below in the diagram).
It is also common to work with Owner Groups (such as 1st line and 2nd line support team) and not to assign to a specific support agent until they are starting to work with it. This way anyone in a team can work with the issue.
It is quite common by our customers that they develop or maintain different applications/systems/services for their customers (external or internal business customers). In that case you can use the CMDB (service/application/asset portfolio) to keep track of the services/products that different customers use and that you support and maintain/develop/build for them. This data lives throughout the system independent of any project and can be used by different teams in the organization. In that case you would normally also use the service contracts/agreements to tie a customer to the services they use, with the extended SLA management.
A separate workspace (project) to manage problems and changes
In addition to the support project mentioned above it is also very common that you develop and maintain your applications/systems in a separate "Develoment/Operations workspace". If your end-users or customers reports bugs/incidents or change/feature requests then these are then normally copied over to the development project using an "active link" where these are managed by one (or several) teams responsible for development and IT-problems and changes.
Below you can see a diagram of how this might work inside your organization, but you can also see more related information about How to keep track of support cases/issues easily as well as How to effectively organize your tasks in iterations/sprints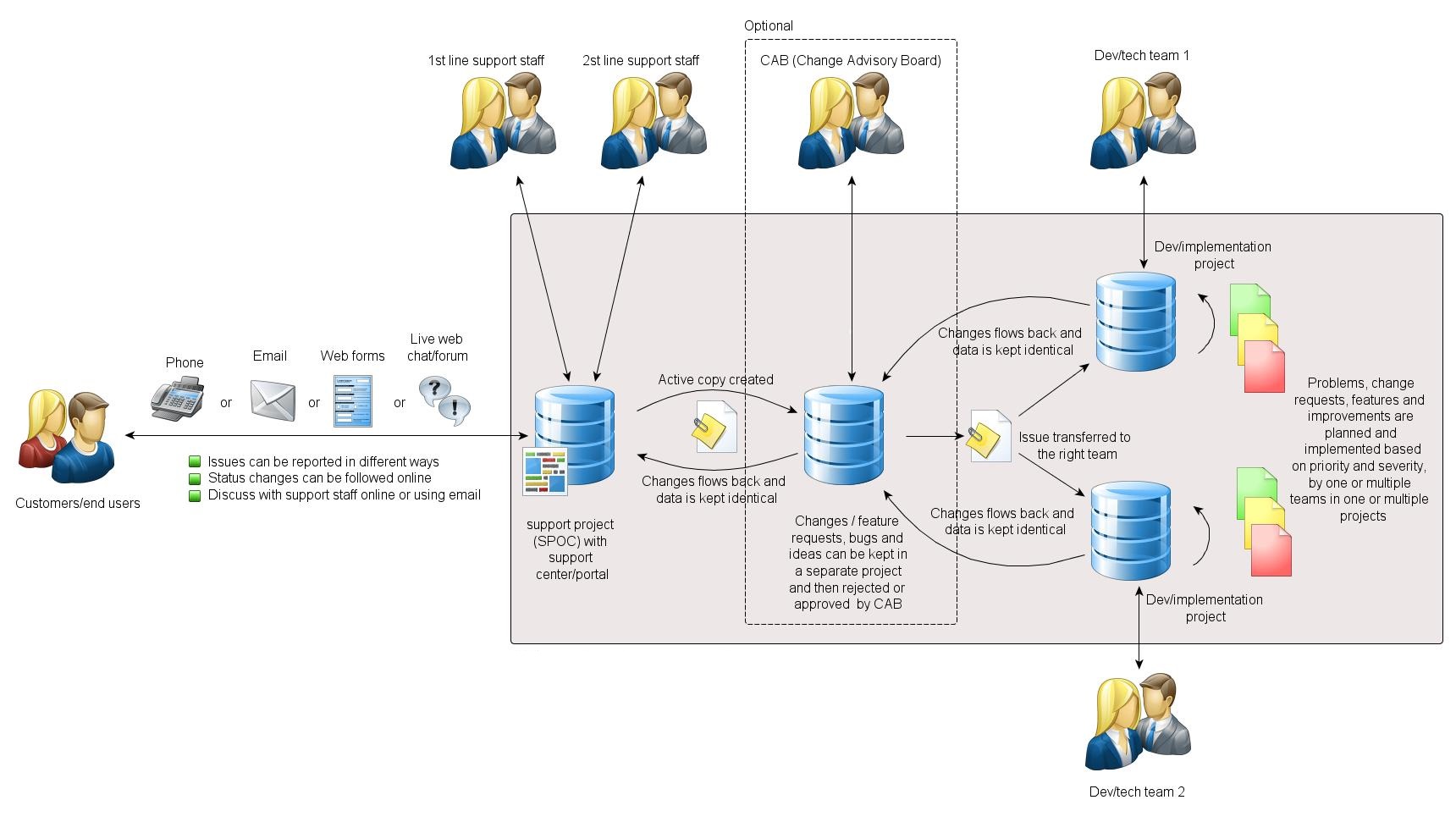 A separate project/workspace to manage problems and changes
A simpler solution for small teams or organisations is to keep everything in one place and not divide and handle issues/cases of different type in different places. This would mean that you handle service requests, incidents, problems and changes in one central workspace/project in VisionFlow. Instead you can easily create different views/filters for different people/teams (user groups) to use. The benefits with this solution is that it will be a bit easier to manage, and you don' t need to copy things from one place to another, but on the other side there will be a lot of different things handled in one place.

If you apply ITIL (Information Technology Infrastructure Library), you probably want to configure VisionFlow to be aligned with the Incident-, Problem-, Change- and Release Management processes along with some other processes. For more info about ITIL, see here: https://www.VisionFlow.se/landing2.vm. This is a more advanced setup that requires a bit more work than a normal Help Desk. If you want to set this up and use VisionFlow for the ITIL framework then we normally recommend you to contact us and let us assist you.