Project Page

The Project page is one of the central sections in VisionFlow! Various key elements of the screen layout are
highlighted in the figure below!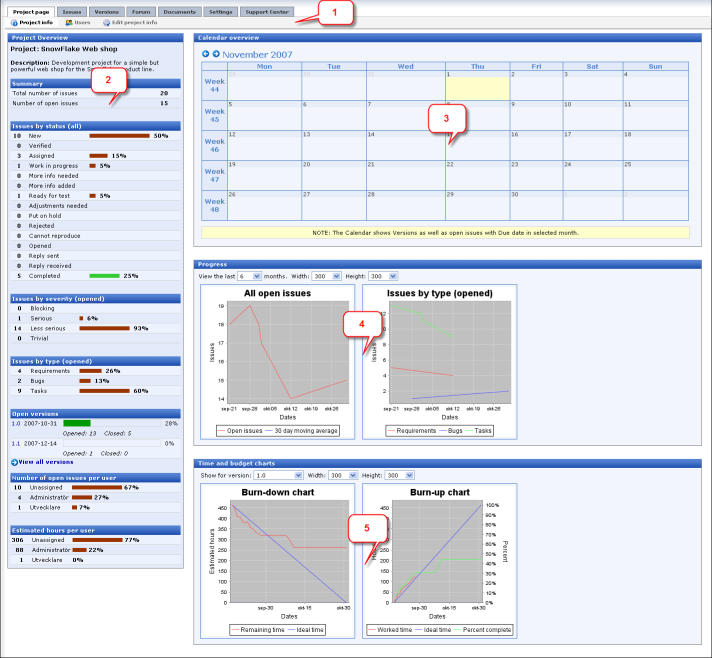 1. Project navigation tabs
When working with a project, you always see a number of tabs on top, under the navigation menu. The name of
these tabs can be configurated for each project, but by default they are:
Project page - Shows a summary of issues, and general status of the project
Issues - Shows a paginated list of issues. You can use sorting and filtering to refine your view further.
Sprints - Shows your sprints and builds
Forum - Here you can share knowledge and discuss project related issues, instead of by email.
Documents - Store and organise project related documents here
Settings - Manage many aspects of the project, including notificatio and workflow schemes.
Support Center - Contains some support related things, and a Knowledge Base area for articles and
information to Support Users.
On most of these tabs/pages in the project you have a sub-menu of options in the light grey area below the tabs.
The optionsavailable here is dependent on user role. Project info and Users are accessible by all.
2. Project overview
This sidebar is a summary of the current project, with several different informative sections.
Summaries of issues based on status, severity and type. Note that all these categories are customizable,
so do not worry if your project does not have the exact same statuses, severities and types as in the image.
Open sprints - shows sprints that are not finished yet, with progress bars showing how many issues has
been done for the sprint.Number of issues and estimated hours summaries - shows how much everyone is
contributing to the project.
3. Calendar View
shows the current month. Tasks, issues and sprints with current due dates will show up in the alendar, showing
"things to do".
4. Progress graphs
shows the variations in the number of issues during the last month(s), in total issues, and by type.
5. Burn-down and burn-up graphs
These charts helps illustrate the progress in the project sprint by showing how much work has been done, is still
to be done, and if the sprint will be done on time.