Issue Rule engine
The issue rule engine fills the gap when the normal workflow is not enough. Here you will have the ability to search on all issue fields and when the search criteria matches, you specify which issue field you would like to update.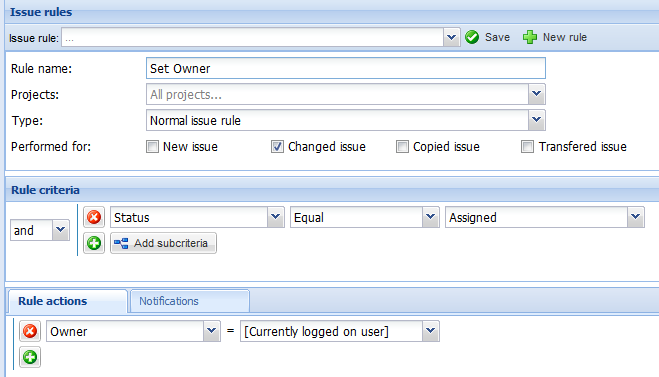 Fig 1. Sample view of the rule engine.
The workflow functionality has limitations in that it can only change owner and owner group in response to changes in issue status. Workflows are also project specific.
You might want to set other fields on issues, based on other criteria than issue status. This is where the issue rule engine helps.
When an issue rule triggers on saving an existing issue, a newly created issue, a copied issue, or a transferred issue, the rule changes will be performed before the issue is actually saved.
Note: An issue rule needs a manual user generated event to trigger it. It will not trigger passively. If you need to trigger something for an issue on a specific date/time, you should check out the Issue Alerts, which are similar to Issue Rules, but trigger on specific times.
Note: When an issue is changed by an issue rule, an issue history log event is added with a text such as "This was changed by issue rule 'ABC'", where ABC = the name of the issue rule.
The issue rule page has three sections:

Issue rules
This section contains the general data for the rules.
Rule - This drop-down list shows all existing rules in the account. Select one rule, and its data will be shown in the fields below.
Save - Click on this icon to save the currently edited rule.
Delete - Click on this icon to delete the currently edited rule.
New rule - Click on this icon to create a new blank rule where you can enter data.
Rule name - Enter the name of the issue rule here.
Projects - This is a multi-select drop-down list. Check all projects where the rule shall be used in.
Type - Sets if this is a normal issue rule or an Action button.
Performed for - controls when a rule should be triggered - when an issue is created, changed, copied or transferred. Check one or more check-boxes. If none are checked, this rule will never be triggered.

Rule criteria
This section contains the matching criteria used to find which issues should be affected by the issue rule. This is basically the same as the functionality as in General-search, where you can create complex matching statements based on any issue fields. Note that you can create a criterion of "NNN changed", this triggering the rule when the field is changed, no matter the new value of the issue field.

Rule actions
This section controls which fields should be updated on the issue when the rule is triggered. Quite a few different issue fields can be set, but not all.
You can set multiple issue fields by adding new rows by clicking on the green "plus" icon.

Notifications
This section shows which users and/or user groups that should be notified of the issue rule triggering. Just move the appropriate users/groups to the Selected box and save.
Note: Notifications from issue rules can not be sent to support users.
By default the normal notification template is used, but you can also add your own notification templates in the drop down list below. You can add these in the General --> Settings --> Other configurations --> Notification templates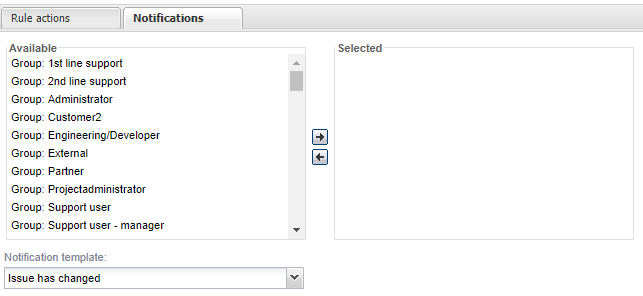 Fig 2. Notifications image.