For CRM purposes is very useful to associate issues (cases/tickets/meetings) to companies. By doing this you can easily follow up and see all things that are related to a company in chronological order.
See below for an example where you can see all incidents, questions and service requests that the company "Cyberconnect" has sent in, but you can also see sales opportunities, quotes, changes and tasts that are related the selected company.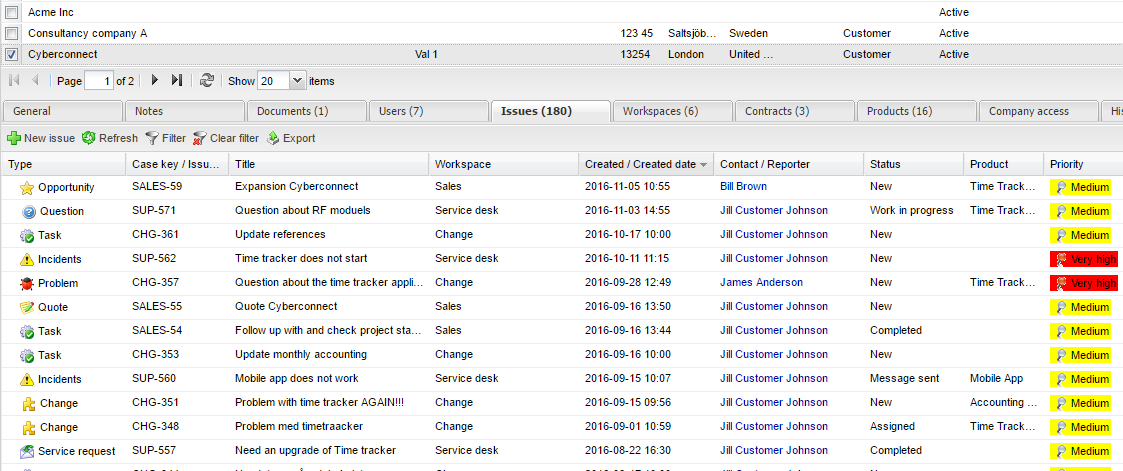 To see issues (cases/tickets/meetings) on the company you need to connect an issue to a company, this can be done by :
Indirect connection, by setting the reporter field on an issue, and also make sure the reporter has a company set on the user. Most common.
Direct connection, by setting a company field directly on an issue (case/ticket/meeting). Not as common as option 1.) above.
You can also create issues directly from a company by clicking the "New issue" button. If you get an error saying "Cannot create issue for company", then this indicates that you do not have any users added to any project/workspace for the company. To solve this you need to add users on your companies to some of your workspaces/projects
How many workspaces do you need for CRM?
In the example above we have been using different workspaces, one called Change, Service Desk and Sales, but you can create any number of workspaces for your needs.
For general purpose support and sales management we normally recommend that you create one workspace per department.