This function is accessible from the Copy/Transfer link in the issue page, or from the issue context menu.
Transfering moves the issue to another project. Copying creates an almost identical copy in a project (It can be the same project as the original issue, if you like.).
Note: Work logs are not included in the copying of an issue, as they represent unique reported work hours (You don't want to have your reported time double just because you copied an issue). Work logs are kept when transfering an issue though!
The screnshot shows the layout: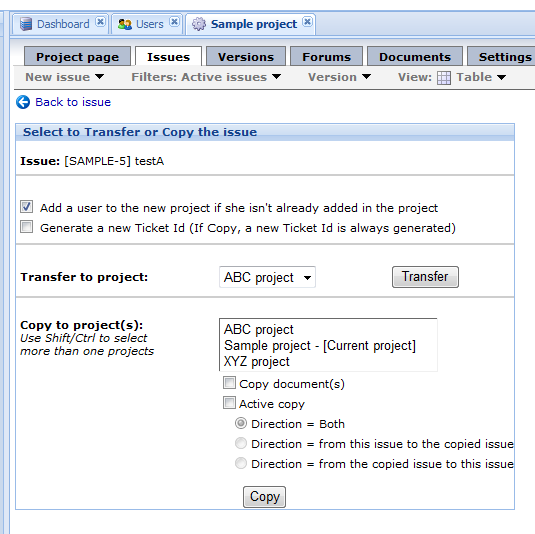 Add a user to the project if she isn't already added in the project - This does what it says. If a user in a user field (For ex: Owner, Developer, Reporter, etc) does not exist in the target project, the user will be added to that project, when the field is copied over.
Generate a new Ticket Id : Ticket ids are used to maintain email conversations on the same issue for project with email ticket systems. By checking this, the issue will have its own 'email history' after transferring. This is always checked when you copy an issue.
Transfer to Project: This dropdown allows you to select which project to transfer the issue to. Just click transfer to move the issue.
Copy to project(s): Choose one or more projects in the list to copy the issue to. Select settings and click Copy.

Create a link between the issue and the copy: This is checked by default, and creates a "Copied to/from" link between the two issues.
Copy document(s): Check this if you want to copy the document(s) on the issue as well.
Copy issue history: Check this if you want to copy the issue history on the issue.
Active Copy: This creates an active link between the source issue and the copied issue, so that one or both are updated when the other is. (The setting for just what fields are updated with an active link, is in General - Settings- Issue Configuration - Issue Links). The 'Direction' in the radio buttons , is the direction that data is copied between the issues.
After copying, you'll get the question if you want to remain on the original issue, or if you want to open the newly created copy. This is useful when using one issue as a template, and you want to further edit the new copy.